From Wet Hair to Perfect Hairstyle in Just Minutes.
✔ Save 50% OFF Our 5 in 1 Hair Styler whilst stocks last!
✔ 30 Day Money Back Guarantee
✔ 1 Year Warranty
✔ Kinder to hair – no extreme heat used.
✔ Creates healthy looking waves and curls.
✔ Boosts volume in fine, limp hair.
✔ Dries hair quickly and quietly.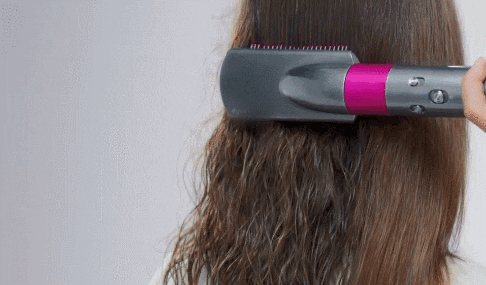 Sometimes drying and styling your hair can feel like a chore. It takes ages, and it simply takes too much effort. Introducing the Glambasix™ - 5 in 1 Hair Styler which works by combining moisture with powerful airflow and controlled heat allowing it to style & dry your hair in just minutes - with no extreme heat!

Why You'll Love Our Hair Styler
✔ 5 in 1 Multifunctional One Step Hot Air Brush - The multifunctional 5-in-1 hot air hair brush set includes 5 styling attachments, which can make hair curly, smooth, dry, straight and wavy. It is equivalent to having hair dryer, hair curler, hair straightener and styling comb all at once, which can save time and money and create perfect customized hair style easily.

✔ 5 Changeable Brush Head, Comprehensive Function - This hot air brush can be used for hair style design with 5 Changeable brush head. Large paddle comb with soft comb teeth can smooth and straighten long hair; Curl brush can create curly or wavy hair in lasting shape; Hollow comb can fluffy hair roots, while combing hair, the texture groove at the back can curl the hair freely; air collector can guide heat to specific areas, to help hair dry quickly and maintain the fluffy stereo hair style.

✔ Constant Temperature for Healthy Hair - Ceramic glaze coating and uniform distribution of heat dissipation holes make each hair evenly heated, thus reducing damage. The negative ions released by hair dryer modeling brush can increase the moisture content of hair, reduce the damage to hair and nourish hair, making hair silky, glossy, soft, free of hairiness and static electricity.

✔ 2 Temperature Settings & Easily Detachable - 2 adjustable heating settings suitable for different hair types. "1" cooling: high wind speed, low temperature, suitable for summer; "2" nursing: low wind speed, medium temperature, for carding; Press "PUSH", a detachable button, to easily change 5 different styling accessories to meet the needs of different beautiful hair styles.Please note that the product with power of 600W is only suitable for maintaining a 24-hour hair style.

✔ Unique Design - Unique vents ensure better air and heat 360°three-dimensional coverage, efficient and fast modeling, saving time and reducing damage; Safe and comfortable ergonomic grip; Carry bag for brush and accessories is easy to carry when traveling and save space.Heat insulation gloves: Heat insulation gloves can protect your hands and avoid scalding your skin due to rising temperature.
 How it Works 
Our 5 in 1 Hair Styler works by combining moisture with powerful airflow to style your hair with no extreme heat! No you can get flawless hairstyles without permanently damaging your hair.  
What's Included
-Glambasix™ - 5 in 1 Hair Styler
2x 30mm barrels
2x 40mm barrels
1x Firm smoothing brush
1x Soft smoothing brush
1x Round volumising brush
1x Pre-styling dryer
1x 1 year warranty card
1x User's Manual